This story is beyond disturbing. How deep does FBI infiltration go especially in the wake of Homeland Security, the Patriot Act and other laws pushed by the Bush administration which allowed us to be spied upon? Can you imagine just how much this guy may have stiffled the type of progress former Black Panther Malik Raheim who heads up Common ground could possibly had? Can you imagine the seeds of dissention this FBI informant may have planted in the New Orleans area in the aftermath of Katrina?
Davey D
Life's a Snitch: Austin activist admits he infiltrated RNC protest group
December 31st, 2008 at 11:02 pm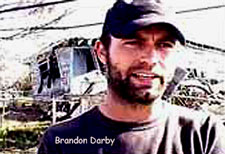 A well-known Austin activist fingered as an FBI informant has acknowledged that he provided information leading to the arrest and felony indictment of two Austin men who participated in protests last September at the Republican National Convention in St. Paul, MN.
"The simple truth is that I have chosen to work with the Federal Bureau of investigation [sic]," Brandon Darby said in an open letter he sent this week to friends he has worked with since 2002.
Darby's activist network stretches from Austin to New Orleans, where he co-founded Common Ground Relief, a grassroots reconstruction effort that drew thousands of volunteers from around the country. In 2004, he helped organize and was arrested during anti-Halliburton protests in Houston. His letter suggests that he disagreed with tactics some members of the Austin Area Affinity Group planned to use to disrupt the Republican Convention. Darby was a member of the group.
"When people act out of anger and hatred, and then claim that their actions were part of a movement or somehow tied into the struggle for social justice only after being caught, it's damaging to the efforts of those who do give of themselves to better this world," reads Darby's letter.
Darby's fellow activists say they identified him as "CHS 1" - confidential human source 1 - after reviewing an affidavit (PDF) by FBI agent Christopher Langert that was released in discovery in the case against David Guy McKay, 22, and Bradley Neal Crowder, 23. They say information described in the affidavit came from conversations between McKay and Darby.
The informant told Langert that McKay and Crowder fashioned protest shields made from cutting traffic barrels in half. After describing how police seized these items from a trailer the two helped drive from Austin to St. Paul, Langert refers to conversations gathered when the informant wore a wire to record McKay talking about how he and Crowder had made Molotov cocktails, using tampons soaked in lighter fluid for wicks.
The Molotov cocktails were among the items seized in a raid that led to felony indictments of McCay and Crowder, now known as the "Texas Two." They were charged with possession of unregistered firearms (the cocktails). Information gathered by Darby may have contributed to broader charges against eight others from around the country for conspiracy to riot and conspiracy to damage property in the furtherance of terrorism.
Several of Darby's friends initially defended him against accusations that he was an informant, but after they acquired additional court documents from sources close to the case against McCay and Crowder, they confronted him days before he went public.
"I don't feel like I lost my credibility," says longtime Austin-based activist Scott Crow. "But I staked my credibility defending him, and people backed me up." Now that Darby has gone public, Crow is ready to go on the offensive.
"While it is not yet clear how long or to what extent Darby has been acting as an informant, the emerging truth about Darby's malicious involvement in our communities is heart-breaking and utterly ground-shattering to some of us who were closest to him," says Crow, who in 2005 co-founded Common Ground Relief with Darby.
Activists in St. Paul with the RNC Welcoming Committee posted a video in October 2007 that showed a tongue-in-cheek use of a Molotov cocktail to light a barbeque. Langert's affidavit states that Darby had been working with the FBI since November 2007.
Crow and another member of the group claim the additional court documents - which the group has so far declined to make public - show Darby actively encouraged, enabled and provoked McKay and Croder to take illegal action. Crow asserts that Darby "hadn't even met these guys yet" when he began reporting to the FBI. "How can you know they're going to plan something," he asks, "if you hadn't met them yet?"
McCay's father has previously argued that his son was naïve and gullible.
McCay and Crowder have been denied bail and remain in federal detention in St. Paul. Their trial date has been postponed indefinitely. They each face seven to 10 years in prison.
-Renee Feltz is a fellow at the Toni Stabile Center for Investigative Journalism and an intern with the investigative unit at The New York Times.
Brandon Darby's response to recent allegations in media
December 29, 2008
To All Concerned,
The struggles for peace and justice have accomplished significant change throughout history. I've had the honor to work with many varying groups and individuals on behalf of marginalized communities and in various struggles. There are currently allegations in the media that I have worked undercover for the Federal Bureau of Investigation. This allegation no doubt confuses many activists who know me and probably leaves many wondering why I would seemingly choose to engage in such an endeavor. The simple truth is that I have chosen to work with the Federal Bureau of investigation.
As compelling as the natural human desire to reason and express oneself can be, regardless, I must hold my comments at this time on certain aspects of the situation. That said, there are a few statements and generalizations I will make relating to my recent choices.
Though I've made and will no doubt continue to make many mistakes in efforts to better our world, I am satisfied with the efforts in which I have participated. Like many of you, I do my best to act in good conscience and to do what I believe to be most helpful to the world. Though my views on how to give of myself have changed substantially over the years, ultimately the motivations behind my choices remain the same. I strongly stand behind my choices in this matter.
I strongly believe that people innocent of an act should stand up for themselves and that those who choose to engage in an act should accept responsibility and explain the reasoning for their choices.
It is very dangerous when a few individuals engage in or act on a belief system in which they feel they know the real truth and that all others are ignorant and therefore have no right to meet and express their political views.
Additionally, when people act out of anger and hatred, and then claim that their actions were part of a movement or somehow tied into the struggle for social justice only after being caught, it's damaging to the efforts of those who do give of themselves to better this world. Many people become activists as a result of discovering that others have distorted history and made heroes and assigned intentions to people who really didn't act to better the world. The practice of placing noble intentions after the fact on actions which did not have noble motivations has no place in a movement for social justice.
The majority of the activists who went to St. Paul did so with pure intentions and simply wanted to express their disagreements with the Republican Party. It's unfortunate that some used the group as cover for intentions that the rest of the group did not agree with or knew nothing about and are now, consequently, having parts of their lives and their peace of mind uprooted over.
There is no doubt in my mind that many of you reading this letter will say and feel all possible bad things about my choices and for me. I made the choice to have my identity revealed and was well aware of the consequences for doing so. I know that the temptation to silence or ignore the voice of someone who you strongly disagree with can be overwhelming in matters such as this one; and no doubt many people will try to do just that to me. I have confidence that there will be a few people interested in discussion and in better understanding views different from their own, especially from one of their own. My sincere hope is that the entire matter results in better understanding for everyone.
Many of you went against my wishes and spoke publicly in defense of me. Those involved were correct when they wrote that I wasn't making my choices for financial reasons or to avoid some sort of prosecution. They were incorrect that my ideology didn't support such choices. One individual who publically defended me stated that they didn't believe I was working undercover because the government would have used my access to take down a more prominent activist if the allegations were true. If indeed the government or I was interested in doing so, it could have happened in such a manner. However, the incorrect notion that the government was out to silence dissent was the cause for the mistake made by that person. In defense of the individuals who openly did their best to do what they thought was defending me, they did not know the truth and they had no way of knowing the truth due to their ideological and personal attachments to me. It's unfortunate that the truth couldn't have come out sooner and that the needed preparations for such a disclosure take time. I really did mean it when I said that I didn't want to discuss it and that I didn't want folks addressing the allegations.
Again, I strongly stand behind my choices in this matter. I'm looking forward to open dialogue and debate regarding the motivations and experiences I've had and the ethical questions they pose.
In Solidarity,
Brandon Michael Darby
All are welcome to contact me via email. Please understand if it takes me awhile to respond. [email protected]
Return to Davey D's Hip Hop Corner