Rev Amos Brown Speaks on the Controversy Surrounding Jeremiah Wright


by Davey D
Click HERE to listen to Breakdown FM Interview
http://odeo. com/audio/17964213/view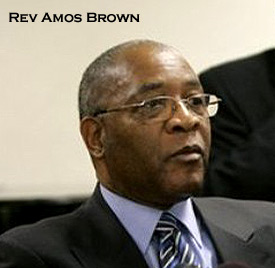 F
ormer San Francisco supervisor and 3rd Baptist Church Pastor,
Amos Brown
gave us an important history lesson and much needed insight into the drama surrounding
Senator Barack Obama
's Pastor
Jeremiah Wright
and his recent remarks on race in America and 9-11. If there was anyone who could break all this stuff down it would be Rev Amos Brown.
For starters he is in a unique position because he accompanied Rev Wright to the White House at the invitation of
President Bill Clinton
to pray and counsel him during the
Monica Lewinski
scandal.
Brown noted that Wright has always spoken out about things he felt were unjust and the Clintons had no such problem back then-so he thought it was a bit hypocritical for them to have problems now?
Brown explained that he went to the same divinity school with Jeremiah Wright. As a result, he's more than familiar with the Liberation Theology that Wright draws from which has come under attack.
Brown explains it in great detail and lays to rest any of the over the top speculation by right-wing zealots and propagandists like
Sean Hannity
and the Fox News company.
Brown spoke at length the various teaching and preaching traditions that are embraced by preachers among them the prophetic tradition which is often used by African American preachers and rooted in the Bible. He also pointed out the Civil Tradition of preaching which essentially equates God with country and patriotism is Godly.
You are likely to hear this type of adherence amongst preachers like
Billy Graham
.
The prophetic tradion literally means speaking truth to power. Wright challenging the foreign policies of the US with respect to 9-11 was not out of pocket and is a continuum of preachers in the past speaking out against the government and back in Biblical times the respective rulers of society. Pastor Brown himself was one of the first prominent pastors to catch hell for speaking out and questioning our foreign policy around 9-11, but he explained that his remarks were only out of place to those who were unfamiliar and disconnected from the Black church. He also noted that prophetic teaching which is challenging and raises questions often conflicts with Civil preaching which sees the God and country as one and the same.
Brown explained that
Dr Martin Luther King
speaking out against the War in Vietnam was part of the prophetic tradition.
Bishop Desmond Tutu
speaking out against Apartheid in South Africa was part of that.
Brown gives a rich history lesson explaining the role of the Black church dating all the way back to
Nat Turner
and
Denmark Varsy
-both preachers coming out of the prophetic tradition who led slave revolts.
Brown also noted that he felt it was wrong for Obama to distance himself from the remarks of his pastor. He should've used the opportunity to point out how his remarks were taken out of context and by doing what he did he may have opened himself up to more sermons being called into question and Obama having to distance himself which is crazy.
Rev Brown concluded this interview by pointing out a number of preachers who are associated
Senator John McCain
, Clinton and past presidents who have been applauded and embraced in spite of the over the top offensive teachings they espouse.
In this interview he takes Rev Billy Graham and his relationship to
President Richard Nixon
to task for anti-semitic remarks about Jewish people owning all the media and how they needed to be stopped.
..