This is totally messed up, but as you read this article, please keep in mind the long lasting and far reaching damage these federal courts are capable of doing. many people are quick to claim voting doesn't matter. On many issues you may not see that immediate change, but when it comes to appointing judges who make major decisions like the one handed down to Mumia it does make a difference who we put in office. Look at all the judges appointed to this court by Reagan, Nixon and GW Bush...
http://en. wikipedia. org/wiki/United_States_Court_of_Appeals_for_the_Third_Circuit

Davey D
Court: Abu-Jamal needs new penalty hearing
Famed inmate's conviction upheld, but death penalty could be reviewed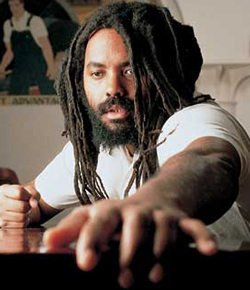 PHILADELPHIA - A federal appeals court on Thursday upheld Mumia Abu-Jamal's conviction for murdering a Philadelphia police officer in 1981, but agreed with a lower court that he cannot be executed without a new penalty hearing.


The 3rd U.S.
Circuit Court of Appeals said Abu-Jamal's conviction should stand, but that he should get a new sentencing hearing because of flawed jury instructions.


If prosecutors don't want to give him a new death penalty hearing, Abu-Jamal would be sentenced automatically to life in prison.


The former Black Panther had appealed his conviction, arguing that racism by the judge and prosecutors corrupted his 1982 conviction at the hands of a mostly white jury. Prosecutors, meanwhile, had appealed a federal judge's 2001 decision to grant Abu-Jamal a new sentencing hearing because of the allegedly flawed jury instructions.


A Philadelphia jury convicted Abu-Jamal of killing Officer Daniel Faulkner, 25, after the patrolman pulled over Abu-Jamal's brother in an overnight traffic stop.


Rallying cry

Since his trial, Abu-Jamal's name has become a rallying cry for activists of many stripes to take to the streets in both the United States and Europe.

Hundreds of people protested outside the federal building in Philadelphia in May and an overflow crowd - including legal scholars, students, lawyers, the policeman's widow and Abu-Jamal's brother - filled the courtroom when the appeals court heard arguments about the case.


The officer's widow, Maureen Faulkner, has kept her husband's memory alive over the years, and recently co-wrote a book about the case. The book, "Murdered by Mumia: A Life Sentence of Loss, Pain and Injustice," written with radio talk-show host Michael Smerconish, came out in December.


Few expect the fervor that permeates the case on both sides to die down, even with the appeal court's decision.


"Regardless of the decision, if anything it will heat up the outcry from people in the public," Mumia's lawyer, Robert R.
Bryan of San Francisco, said in March. "I think the support from people not only here, but all across Europe will escalate.
"