Trials of a Hip Hop Educator: Taking Charge of the Class
By Tony Muhammad

[email protected] com

Peace and much Blessings,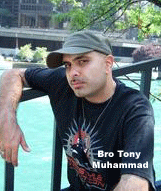 my consistent readership for being MIA for the month of February. In February I became extremely busy preparing for several local panel discussions, including an Imagine Miami conference at Miami-Dade College, which focused on the importance of merging activism with the arts, and a "Hip Hop verses America" type discussion at Florida International University, which dealt with the realities of the music industry. At the end of the month I was blessed with the opportunity to assist the Nation of Islam's Latino Ministry for our annual Saviours' Day conference in Chicago. Just when I had recovered from the weekend long gathering, five days later, I became over-consumed with yet another situation; counseling students who experienced full scale police violence at an inner-city high school not far away from the high school that I presently teach at. This week, my school (as well as all other high schools in the state of Florida) is administering the FCAT standardized exam and I have been relieved of my regular teaching duties, which has given me the opportunity to take some time to get back to this column.

In my last article, I left off discussing some of the harsh realities students are faced with today and the importance of doing what we can as educators to keep them focused and succeed in school and life. The first step in this process is providing a safe and nurturing classroom environment. While many of our students' personal lives may be troubled and security at many of our schools may not be at a level that it should be, it is up to us as educators to take ownership of the four corners we have been assigned to for the whole school year and make sure that it is (perhaps) the most consistent, nurturing and loving place they experience all day. This is reflected most in the manner in which the classroom is designed. Here are 3 major tips to successful classroom designing.


1. Decorations: Students respond best to educators that let them know that they enjoy teaching and care about their students. The first indicator of this is how well the teacher has decorated the classroom. Necessary decorations include colorful posters and images with inspiring messages that encourage achievement, morality and self-determination. For the Hip Hop Educator especially, images should be oriented towards people and things that the students could relate to. Some images should also reflect people and things that have inspired you, the teacher, to become the great person that you are today. Also recommended is reserving at least one section of the class, perhaps on a bulletin board near your desk, for pictures and items that reflect your experience, interests and success in and outside of the classroom. The trust level and communication between the students and the teacher is increased if the students are able to see how full of life their teacher actually is. A huge part of educating is proper role modeling. You would want to always present the BEST part of you in order to inspire the BEST part of them. In respects to design patterns of the class, be aware that the overall color scheme of the environment will have a strong influence on the general mood of the class. Violent colors such as red tend to trigger strong emotions while earth tone colors generally have a calming effect. Bright multiple color schemes tend to inspire happiness and creativity. However, remember that ultimately, beautiful designs account for nothing if it is not complemented with the teacher keeping a positive attitude with high expectations of the students.


2. Print Rich Material: Teachers often complain that students "don't like to read." Even if they tell you this themselves, challenge them and provide opportunities for them to contradict themselves. Set up a small library with books and magazines that not only cater to their interests, but also includes books that are culturally relatable and model achievement. As rewards or as regular class assignments, give the students time to independently read books or magazines of their choosing and write reflections on what they read. If your budget is limited (as it is a reality most educators are faced with) you might want to stay tuned to when your local public libraries are having book sales. Good quality books at such sales usually run from 25 cents to a dollar. Other good places to find cheap good quality reading material are garage sales. Also, major book stores such Barnes & Nobles and Borders always have reduced price and clearance book sections. You would be surprised at what you could find! Many of the history, philosophy and novels in both my classroom and my own personal library have come from these places. A well rounded classroom library that incorporates books on all subjects and topics is needed no matter what subject you may teach, because ultimately we are preparing young people to deal with life on a holistic level, not departmentalized as if the world actually functions this way. Offer and give life in order to produce life!


3. Good Music: As a teacher, I would never advocate to allow students to use their own MP3 players or !pods in the classroom, especially while doing regular reading and writing-based class work. Responsible educators should always strive to be as much in control of the classroom environment as possible, that includes what goes into the ears and minds of the students while they are with you. The level of student thinking is reflected by the quality of what is permitted to filter into the student's mind. Music (accompanied by singing and/or rhyming) that is played while a student is reading is just a straight up distraction! Between sneaking text messaging to their friends and checking their myspace by way of their cell phones in between assignments, it could be safely said that many young people nowadays have enough distractions that prevent them to give their undivided attention to anything! Yet and still, the incorporation of music as part of the classroom routine is most helpful when students are engaged in group activities/projects in which they are demonstrating collectively what they have learned in class. Music tends to ease students' spirits, especially when dealing with the frustrations of learning how to work with others at such highly individualistic and self-conscious ages. Instrumentals, especially in the form of Jazz, Roots Reggae or even Classical tend to have soothing effects. Hip Hop instrumentals, however, are not typically good because most are just straight loops. Such sounds may become redundant and at times annoying unless you are having the students create rhymes and/or song lyrics in sync with the music, demonstrating what they have learned from a lesson in history, math, literature, science, etc. A well balanced musical foundation helps bridge gaps between generations, as well as inspires creativity and makes learning enjoyable.

These are just some examples of what educators can do to begin the process of fostering a safe, consistent, and educationally-emotionally nurturing environment. If any educators out there have any ideas or experiences that they would like to share, perhaps to inspire topics for future articles under this column, please do not hesitate to e-mail me at [email protected] Until then, keep teaching, keep inspiring, keep making the difference! The quality of the future is determined by how well you shape its potential leaders in the present!