Fans Erupt After Canceled Lil' Boosie Concert in Omaha
By Roman Wolfe
http://allhiphop.com/stories/news/archive/2008/03/02/19368931.aspx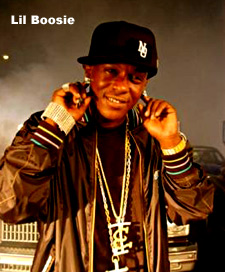 D
ozens of police officers were called to a club in
Omaha, Nebraska
, when hundreds of irate fans crowded an intersection after rapper
Lil' Boosie
allegedly canceled a scheduled performance.
According to the
Omaha World-Herald
, the rapper canceled a performance on Friday (February 29) at Sokol Underground, where almost 900 people had paid up to $30 dollars to see the rapper.
Patrons were told to leave the venue around 11:00 PM, resulting in a melee. The venue sustained damages when angry fans ripped a ticket booth out of wall.
Dozens of police officers were called to backup a number of off-duty police officers and a private security firm securing the venue.
Officers cleared the intersection promptly and two people were ticketed for disorderly contact.
Representatives for Lil' Boosie were not available to comment as of press time.
The rapper, born Torrance Hatch, is also named in a $1 million dollar lawsuit filed by a Baltimore woman in 2007.
On a side note.. as the city of Omaha deals with the aftermath of this disturbance it should be noted that there has been alot of violence in that city over the past couple of years. Toward the end of the month the National Hip Hop Political Convention will be bringinging Hip Hoppers and activists from all over the country to touch down for the Stop Violence Conference in Omaha Below is more information...
Davey D

"State of Emergency" National Stop the Violence Conference
To take place in
Omaha, Nebraska - March 20-23, 2008

I
n response to one of the most violent years in recent history, this spring, scholars, activists, artists, community members, and policy makers will gather at the University of Nebraska, Omaha. The purpose of the gathering will be to address to the rising trend in senseless violence occurring throughout the country. For the past three years, this dangerous trend has been consistently growing. In the process of organizing this conference we witnessed a massacre take place at a shopping mall right here in the host city of Omaha, proof that violence in our society is not restricted to just a few urban metropolis.
The goal of the State of Emergency Conference is to foster a discourse between various elements that are confronting this rising trend, and explore alternative solutions while sharing violence prevention strategies from both a local and national perspectives. The conference will address a wide range of violence-related topics, while identifying the legal, social, and political circumstances that are contributing to this epidemic.
Through panels, workshops, and forums comprised of experts, various issues will be addressed, such as gang violence, domestic violence, conflict resolution, deterrents, school shootings, police brutality, sexual violence, and violence in popular culture.
A few statistics about violence in America:
..American children are more at risk from firearms than the children of any other industrialized nation. In one year, firearms killed no children in Japan, 19 in Great Britain, 57 in Germany, 109 in France, 153 in Canada, and 5,285 in the United States.
The number of people killed by guns in 2006 in England & Wales (population 53 million): 46 compared to the number of people killed by guns in 2006 in New York City (population 8 million): 590.
One to three million women are physically abused by their husband or boyfriend per year.
Although there has been a recent rise in racial violence between the Latino community and the African-American community, most violent crimes in the city of Los Angeles involved assailants and victims of the same race. Last year, there were more than 2,700 black-on-black or Latino-on-Latino incidents, compared with slightly more than 500 interracial attacks. ..
These are just a few of the issues that we will address in Omaha this March. We encourage you to get involved with this effort by registering to attend this gathering, or sign up to present your work during the conference. For full details and constant updates on the conference, please visit the official website at
www.nhhpc.org/soe
where you can find out everything you need to know in order to be a participant in this historic and long over due event.
Return to Davey D's Hip Hop Corner