Oakland Rapper/ Activist Killed by Amtrak

By Jason Sweeney, STAFF WRITER
SAN LEANDRO
- It was a tragic and unlikely end for an aspiring Bay Area rap artist.
Kenneth Poynter
, 27, also known as
KDoe
, had just finished talking to his girlfriend on his cell phone when he was struck and killed by an Amtrak train at about 8 p.m. Feb. 7, while walking on Hesperian Boulevard.
According to Poynter's best friend and music partner,
D. Labrie
, 29, of Oakland, Poynter was an Oakland rapper who was deeply involved in trying to make his community a better place.
"He was out there preaching this message of positivity and stopping the violence, and dealing with all these issues that we deal with in the inner city," Labrie said.
Labrie said Poynter was the Oakland representative for the Worldwide Hip Hop Congress, an organization that attempts to use hip-hop to inspire young people to get involved in social action, civic service and cultural creativity.
On Feb. 7, Poynter was walking on Hesperian when witnesses saw him duck under the railroad crossing arms at Springlake Drive, apparently oblivious to the Amtrak train barreling toward him at 76 mph.
Poynter was killed not far from where his girlfriend,
Delina Pham
, 22, lives. According to Pham, Poynter was often in the area visiting her or hanging out at the nearby Rasputin Music store on Hesperian, where he sold his CDs.
It is unclear why Poynter ignored the crossing guard arms, but police found his iPod and headphones at the scene.
Labrie said Poynter may have had his sweatshirt hood up and his headphones on and had not heard or seen the train in the dark. However, Labrie said Poynter had called several friends on his cell phone right before he was killed.
Pham said the headphones and iPod were returned to Poynter's mother undamaged, so she doesn't think he was wearing the headphones.
"He called at about 8 p.m. and asked if I could come pick him up," Pham said. But Pham, who is Vietnamese, told him she couldn't pick him up, because she was celebrating Chinese New Year with her family.
He said, "Bye," and that was the last time she spoke to him.
According to Amtrak spokeswoman
Vernae Graham
, train-versus-pedestrian fatalities are often suicides, or occur when people are not paying attention or are trying to beat the train.
Poynter is the fourth pedestrian killed by a train on the Capitol Corridor in San Leandro since the fall. A service was held for him Feb. 15 at the Thompson Funeral Home in Oakland.
Poynter worked at 8 Peaks Worley's medical supplies on Lewelling Boulevard in San Leandro until about a year ago, when he decided to pursue music full-time. He was planning to release an album this year, according to Labrie.
Labrie, who has his own record company, RonDavoux Records, said he plans to release Poynter's album in May.
"He was always ready to work toward achieving his dream," Labrie said. "I considered him a brother and definitely a best friend."
"He was a very spiritual, humble, kind-hearted man," Pham said. "He was very funny and fun to be with. He was quiet, but he was always rapping."
To learn more about Poynter, visit http://www.hiphopcongress.com and search "KDoe."
Jason Sweeney can be reached at
510-293-2469
or
jsweeney@bayareanewsgroup.com
.
IMPORTANT COMMENT by DLabrie -

Let's Set the Records Straight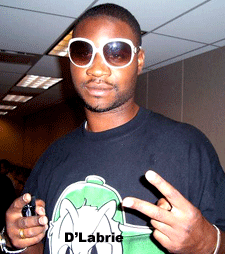 For the record
KDoe
was not trying to beat the train nor did he commit suicide. He is not the 1st to be killed or injured by this dangerous intersection and he will not be the last unless Amtrak takes responsibility for there lack of consideration for pedestrians.
This has been researched by
K-Midas
artist
BLeev
and co-founder
Twizznot
. KDoe was waiting for the train to pass while talking on the phone on Hesperian approaching Springlake Drive going toward Lewelling. There is no guard rail coming from the direction he was walking from. Witnesses say he was sucked in by the wind tunnel the train going at 80 miles an hour created and was struck in the head, dragged by the train and thrusted 100 feet across the street, dying on impact.
"He never saw it coming",claimed a witness.
His body was not impacted and his Ipod was found with little damage. I as a person who previously lived in the building right in back of these tracks for over 4 years have had several close calls with this train route myself. There are many apartment buildings in this area many of which house students who commute to school on foot, by bus or BART. The bus stop is within feet of the tracks and the bart station is around the corner. There is no way this can be seen as a safe intersection. Something has to change so that KDoe's death is not in vein and so that Amtrak is held responsible for its irreversable and irresponsible actions toward citizens in San Leandro and possibly wherever they have trains.
The statement made by
Vernae Graham
was made to lead us to believe it was KDoe's fault. This is a 100% lie and nothing more than a PR strategy to relieve them of any liabilty. I had a similar situation with a very dangerous train crossing in San Jose,CA near stockton road with poor lighting, confusing signs/intersections and out of place guard rails. A friend of mine driving got confused and swereved onto the train tracks by accident toward a moving train. We got out the car just in time and watched the train destroy the car in a dramatic explosion. It was like a movie. Shortly after, train officials and police came to question us about our intoxication level (we were completely sober).
Before even taking a moment to hear us out and take our story serious they were already trying to put the cost of train damage on us. As if we were driving reckless. This is an issue that im sure has touched many families. Ideas are welcome for a solution to Train deaths in our Communities!! There has to be a safer way.
by DLabrie