Hip-Hop Will Not Tolerate Racism!
A Musical Response to the Shameful Actions of "Sheriff Joe"
On Wednesday, February 4, 2009 in a shocking display of anti-immigrant racism, the man who calls himself the "Toughest Sheriff in America" publicly chained and paraded 220 immigrant detainees through a gauntlet of media cameras from the Maricopa county jail to outdoor tents. The immigrants housed in the "tent city" will be surrounded by electrified fencing and subject to different disciplinary standards than other prisoners. Disobedience of Sheriff Joe's "tent city" rules is punishable by chain-gang labor; eerily reminiscent of totalitarian regimes.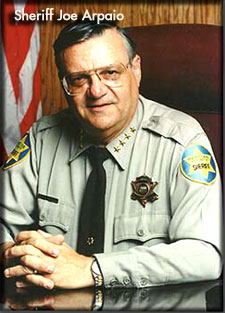 These detainees were singled out for public humiliation, and segregated from other inmates simply because of their race. These antics are not the exception, but rather the rule in dealing with the issue of immigration under the reign of "Sheriff Joe". According to the Immigration Policy Center, "Over the past year and a half, Maricopa County Sheriff Joe Arpaio…has transformed his police department into an immigration-enforcement agency…", and upwards of 2,700 lawsuits have been filed against Arpaio for civil rights violations. Arpaio is quickly turning an embarrassing situation for Arizona into a national spectacle. At a time when many feel as though our nation is turning crucial corners on the issue of race relations, Joe Arpaio and the actions of his police force are keeping us chained to an era rife with racial profiling, xenophobia, and brutality.

"Any time you treat people differently for no reason, you…violate rights. We treat people equally in America…" -- Mary Rose Wilcox; Maricopa County Supervisor

"You're…giving the message that it's OK to treat them like circus animals. He didn't have to make a spectacle. He could've moved them on buses." -- Alessandra Soler Meetze; Executive Director of ACLU of Arizona

"Parading shackled detainees for public viewing is disgusting. The dire situation in Arizona is a shameful insult to the democratic freedoms of this country, and should draw cries of outrage from anyone who values the sacrifices our nation has made in the face of oppression." -Verbal Kent; Gravel Records Recording Artist
On Tuesday, February 10, 2009 the Hip-Hop community, represented by artists both local and national, will lift our voices to call for an end to the ongoing racist attacks on Maricopa County residents. Join us at the Stray Cat 2433 E. University Drive, Tempe, AZ at 8pm for "Stop the Circus! (Fight for Tolerance, Stop Arpaio)". The event will feature renowned musical artists from Chicago, Detroit, and New York in addition to local artists (bios below). There will also be statements of support read on behalf of many national/international luminaries that are closely monitoring the situation in Maricopa County.
Performers (All performers will be made available to media):
One Be Lo (Subteraneous/Fat Beats)
An excellent performer, at any given moment you might find his calendar booked with shows all over the U.S. and even overseas. He' has performed major festivals, hosted and shared the stage with artists such as Rakim, KRS-One, Wu-Tang, Ludacris, Lupe Fiasco, Dead Prez, and Immortal Technique, to name a few. For 3 years He's performed on the Vans Warped Tour, a mostly Rock tour, and he's performed throughout the B-Boy circuit.
Wordsworth (EMC)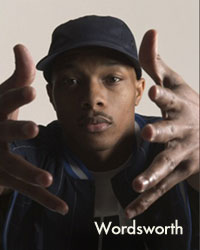 Wordsworth is an underground Hip-Hop MC from Brooklyn, and a graduate of the State University of New York College at Old Westbury. Wordsworth recorded with his partner Punchline on A Tribe Called Quest's The Love Movement and on Mos Def and Talib Kweli's Black Star. He was also involved in the critically acclaimed MTV comedy sketch series Lyricist Lounge. He made his solo debut in September 2004 with Mirror Music. He also featured in a Slam Bush music video where he's Hip-Hop "battling" a nervous George W. Bush. Words is a member of the supergroup eMC, alongside Masta Ace, Punchline and Strick.

Verbal Kent

Verbal Kent has been recording and performing Hip-Hop music since 1998. He has released three solo albums, "What Box" (2003), "Move With the Walls" (2006), and "Fist Shaking" (2008). He is set to release his fourth opus entitled "Brave New Rap" on April 1st, 2009. For a decade Verbal has toured and shared the stage with Hip-Hop Legend's KRS-1, Redman, GZA, The Pharcyde, Sadat X, Cypress Hill, Boot Camp Click, and De La Soul. He has also performed alongside Rap's next generation, artists such as Sean Price, Ill Bill, Little Brother, Atmosphere, Mr Lif, Akrobatik, and many more. Kent has toured the U.S. and several European countries, including the UK, France, and Germany. Over the years he has been involved in events to help the community, fundraising and lending his services to humanitarian organizations such as Chances by Choice and The Chicago Alliance to Help Homelessness. Verbal Kent is currently the coordinator of the Center for New Community's Hip Hop Project, building coalitions in Phoenix and Chicago to respond to anti-immigrant activities that threaten multiracial communities.
"It's Bigger than Hip-Hop!"-dead prez
Return to Davey D's Hip Hop Corner